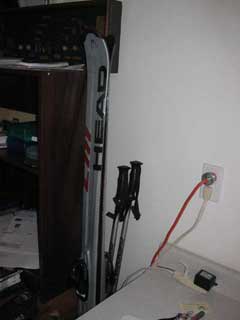 My skis

So I bought my Whistler 4x4 seasons pass, my Cypress One-Niter pass, and I am... excited. Don't my skis look so lonely and unappreciated? It's ok, we'll go to a mountain soon, I'm sure.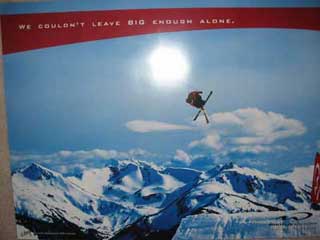 Big air... the sunspot is actually my camera's flash

It'll be especially fun because Whistler opened up 1100 additional acres of terrain this year! And there's an intermediate run, so I'll be able to actually go to the new terrain without thinking about breaking my neck! :D Hehehehe.... And this year, I'll master those moguls!
Eigerman 64 MB MP3 Player

I got a free copy of
The Junkshow Diaries
(among other things) from when I worked for Alice at the
WME
booth at the
Vancouver Snow Show
. And it had a REALLY cool scene set to the music of
Puffy AmiYumi's
Urei (from their album
Nice
). Dammon first introduced me to Puffy AmiYumi a couple of years ago and I can't say that I became a big fan or anything. It's not like they're Grammy-calibre singers, though the music was quite fun to listen to. But watching the Junkshow Diaries has made me become an instant Puffy AmiYumi fan. :) The music is bouncy and crazy, perfect for skiing! This made me want to go out immediately and purchase an
iPod Mini
, which can be had for $305 from the
SFU Microcomputer Store
. Then the guys at
HCW
made me seriously consider a
Dell DJ
, which seems to have much better value in terms of functionality, storage space, and battery life. But not having the cash for either, I shall have to temporarily settle for the Eigerman 64 MB player for which I traded my
Benwin
speakers to Dammon. I just now wish I could have seen Puffy AmiYumi back when they came to Vancouver's Virgin store in the
summer of 2003
. I remember walking to work up Burrard St. and wondering why all these Japanese kids were all crowded in front of Virgin. And not being totally interested in Puffy AmiYumi back then, I shrugged my shoulders and went straight to the office when I found out that Puffy AmiYumi was in town. So I'll just use my Eigerman to go down the slopes and listen to Puffy AmiYumi's
Red Swing
. :)
My sock drawer

As you can see, I have a lot of socks.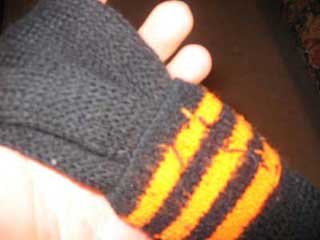 My socks

However, I don't have any socks that were specially made for skiing. This is a little annoying, as last season, my socks would be really abrasive while in my ski boots. When I'd come home and take my socks off, there'd be marks and scraped skin all over my ankles from the fabric's texture. These are my soccer socks from grade 9, which I normally used because of their length. First thing on the list is to go buy some socks made with a really fine fabric.
My mirrored shades

But what about the eyes? On sunny days, do I wear my mirrored shades?
My blue shades

Or my blue ones? I picked up both of these on a great deal from the Vancouver Snow Show. The guy sold me them cheap because of these tiny cracks that you won't notice unless you're inspecting the sunglasses closely. Or perhaps I should go for a real ski mask?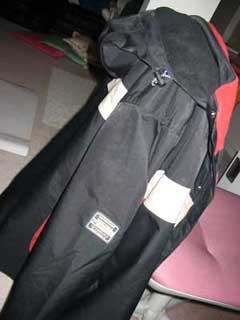 Waterproof, yet breathable?

And here's the ultimate question! Last season, my jacket was completely waterproof, but it didn't breathe at all! The sweat would just trap and gather inside my jacket, making for some discomfort. Is my new jacket truly waterproof and breathable at the same time? Only a trip up to the mountains will tell!
Can you tell I want to go already?